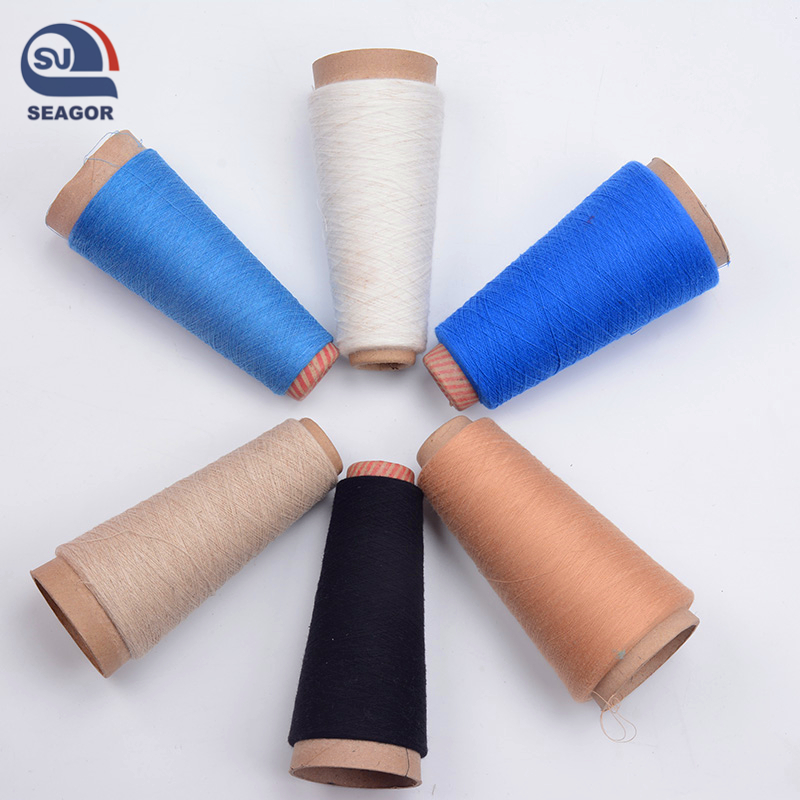 New Color Spinning Yarn Technology
1、 Compact colour spinning
The color spun yarn produced by compact spinning technology has excellent properties such as significantly reducing hairiness, improving strength, soft luster, good abrasion resistance, and smooth handle. It can be applied to knitwear, yarn dyed articles and other fabrics and clothing with high requirements. These knitwear use compact color spinning, with less surface hairiness; The cloth noodles are even and the grain is clear, which significantly improves the quality of the finished products. At the same time, compact spinning can reduce end breakage and improve production efficiency due to its high strength. Therefore, the comprehensive benefit is relatively high. With the improvement of people's requirements for clothing quality, the proportion of compact color spinning in color spinning is getting higher and higher.
The biggest characteristics of compact color spinning are less hairiness and improved wear resistance. Its application in the production of semi worsted yarn can significantly improve the anti pilling performance of knitted fabrics, so that compact spinning technology has a good application prospect in high-grade colored spinning and semi combed spinning yarn, and further improvement of yarn strength is conducive to expanding the application of colored spinning in the field of woven fabrics.
2、 Siro yarn
The structure of siro yarn is similar to the ply yarn, and it has a colorful appearance. Siro spun yarn is widely welcomed by consumers because of its low hairiness, good abrasion resistance and strong air permeability. At present, the varieties of siro spun yarn are mainly some fabrics with relatively fine characteristics, which have good surface finish, strong overall feeling, silk feeling and good air permeability. This not only enriches the variety of yarn dyed products, but also improves the quality of yarn dyed products.
3、 Air-jet colour spinning
Air jet spinning uses double nozzles to form a rotating eddy current in opposite direction to act on the yarn body. With the false twist principle, high-speed spinning can be realized without high-speed rotating parts (such as spindles and wire rings in ring spinning). The maximum spinning speed can reach 300m/min, and the production efficiency is high. Therefore, when air jet spinning is used to produce color spun yarn, roving, spinning, winding and winding are integrated, and the package is in the form of large package, with high production efficiency, and the product style is different from the traditional ring spinning color spun yarn. Air jet spinning has the advantages of less harmful hairiness, smooth and clean appearance, good anti pilling, abrasion resistance, washing resistance, and no deformation (no weft skew). However, the single yarn strength is not as strong as ring fixed spinning, and it is unable to process pure cotton colored spinning, which limits the application of air jet spinning technology in the field of color spinning.
4、 Semi worsted colored yarn
Semi worsted spinning is a new spinning method developed in the field of color spinning. Its products are between worsted and woolen, and are suitable for cotton
Chapter VII New Color Spinning Technology and Product Development
For the product transformation and upgrading of spinning equipment, it is only necessary to add some woolen and woolen equipment to the front spinning, and use the cotton carding machine, drawing frame, roving frame or cotton roving frame, spinning frame to make semi worsted products. Wooling process is the key process to control colored yarn. Based on the principle of "three-dimensional mixing, horizontal laying and straight taking", it is better to manually pull or open colored materials of different cylinder numbers, and then lay layers of materials of different cylinder numbers in strict accordance with the process requirements to reduce the color difference of long segments of the whole batch of materials. Generally, it takes two passes with the wool machine. At present, the semi worsted yarn of multi fiber mixed color spinning is widely used, for example, the yarn for weft knitting circular machine is mainly chemical fiber, cotton yarn, combed wool yarn, etc. Semi worsted yarn has high added value, but its technical requirements are also high. It is the most taboo for circular knitting machines to have details, otherwise the number of broken ends will increase significantly at high speed. Semi fine color spinning is difficult to control fiber damage, lint, wool particles, details, weak strength and other difficulties in the production process. Spinning semi fine yarn is a comprehensive test of the overall process technology, quality control, equipment management and operation management of the enterprise. A little carelessness is a big risk.
Compared with ring spinning, the new type spinning has the characteristics of higher production efficiency, less equipment configuration, less labor and less energy consumption per ton of yarn. In addition to slightly weak strength and slightly hard handle, the new type spinning has obvious advantages in appearance, less hairiness, dyeing and coloring rate, pilling resistance, etc.
Although the application effect and prospect of these new spinning technologies are good, it is still necessary to explore the spinnability of different new spinning technologies, the stability control and optimization of product process, and the appropriate product application fields. At the same time, it is also necessary to actively explore the application of other new ring spinning technologies (such as low torque spinning technology, embedded composite spinning technology, etc.) in the color spinning field, so as to further expand the variety of color spinning yarns and improve product quality, Reduce production costs.