Fancy thread produced by the twine machine chenille yarn
Views: 2 Author: Site Editor Publish Time: 2022-10-17 Origin: Site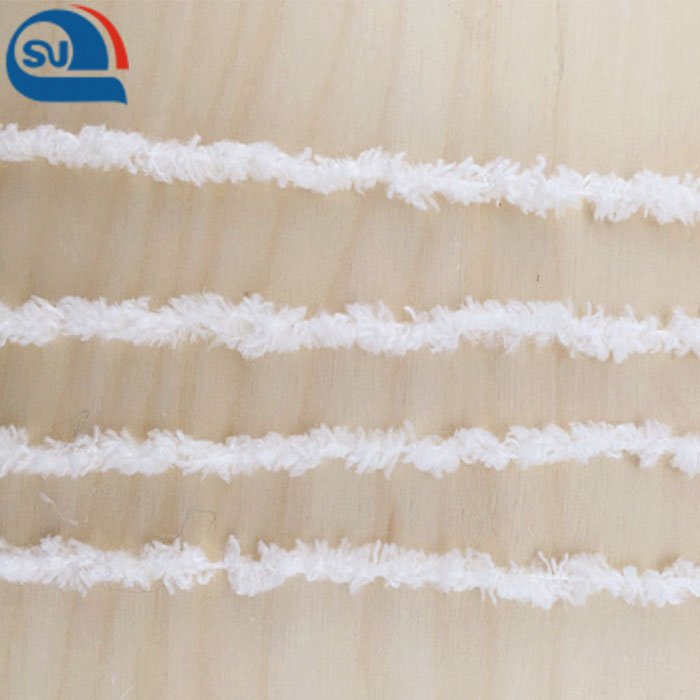 Fancy thread produced by the twine machine
The chenille machine is a model of fancy twisting machine, which produces fancy yarn by winding the decorative yarn on the spacer at high speed (the width of the spacer is the length of the fuzz), and then pulling down the yarn wound on the spacer to the blade by two pairs of guide wheels to cut, so that the pile yarn which is divided into two pieces and arranged neatly is clamped between two core yarns for twisting, and the fuzz is scattered around, like a bottle washing brush. The length and density of the villus determine its linear density. At present, the linear density of most domestic spinning is 125~500 tex (2~8 metric fibers). Recently, we have developed fancy corduroy products such as double color alternating corduroy and knot corduroy.
1、 Monochrome chenille
Monochrome chenille, also known as chenille, is composed of core yarn and wool. The core yarn is generally composed of two cotton yarn plied yarns with good strength, and polyester cotton yarn or acrylic fiber yarn is also used; In order to reduce the cost, some use four single yarns as the core yarn, but the effect is poor. At present, the raw materials used for chenille are cotton, hemp, acrylic, polyester and silk. The chenille yarn made of silk is called velvet abroad
Line; It is commonly used for export of high-grade knitwear in China. The suitable spinning range of chenille yarn is 125~500tex (2~8 metric fibers), and 455tex (2.2 metric fibers) and 222tex (4.5 metric fibers) are commonly used. The chenille yarn can be used for weaving or knitting, and can also be used for hand knitting.
2、 Bicolor chenille
It uses two yarns of different colors with strong contrast as velvet yarn, so that there are two colors in the velvet of chenille yarn. In Japan, colored chenille yarn is used as weft yarn to weave towels on a loom with fixed clamping amplitude, so that the sectional dyeing is overlapped with each other, and the pattern of red flowers and green leaves is woven, which has a very three-dimensional sense.
3、 Two color alternating chenille
This kind of chenille yarn is first spun into long pieces of two-color yarn on the modified spinning frame. Generally, according to the length of the pile, the ratio of the pile length of chenille yarn to the original yarn should be shortened by 1/5~1/10 times, that is, 50 cm long pile yarn needs to be spun into 5 m long yarn. If the two color yarn with unequal distance is spun, the alternating two color chenille yarn with unequal distance can be produced. This kind of chenille yarn needs to be spun thick, generally 29~37tex (27~34metric count). As the common pile yarn is fed by two fibers, the turn head is S direction. When two colored yarns are used, the color knots are not easy to align, so only S-twist single yarn can be spun.
4、 Tricolor alternating chenille
This kind of twine has three colors in sections, namely, the first section is A color, the second section is B color, and the third section is C. The arrangement of color sections and the length of each color section can be specifically designed according to the product requirements.
5、 Monochrome knot twine
This is a recently trial produced product. It produces a different knot on the white twine, and this kind of knot has long hair, strong color contrast and very obvious knot.
6、 Bicolor knot twine
Knots of two colors are generated on one twine. Knots can be equidistant or not equidistant. Knots can be arranged regularly or randomly.
7、 Belly corduroy
This is a new product successfully developed in recent years and has been widely used in production. It is an olive shaped belly similar to slub yarn formed on ordinary chenille yarn. Its spacing can be long or short, and the thickness and length of the belly can be adjusted freely.
(1) Monochrome belly corduroy
The belly color of this kind of twine is different from the original background color. It is another color. Its size and spacing can be set at will.
(2) Two color belly corduroy
The belly of this kind of twine has two colors, and its size and spacing can be adjusted at will.
8、 Beaded corduroy
Bead corduroy (table tennis thread) is made of high elastic nylon yarn. During production, the high elastic nylon filament is straightened under tension. When it is cut off, due to the loss of tension, the high elastic nylon filament shrinks back into a ball shape and is clamped between two core yarns, like beads. The clothes made of it are very beautiful and unique.