Fancy yarn
Views: 28 Author: Site Editor Publish Time: 2022-09-03 Origin: Site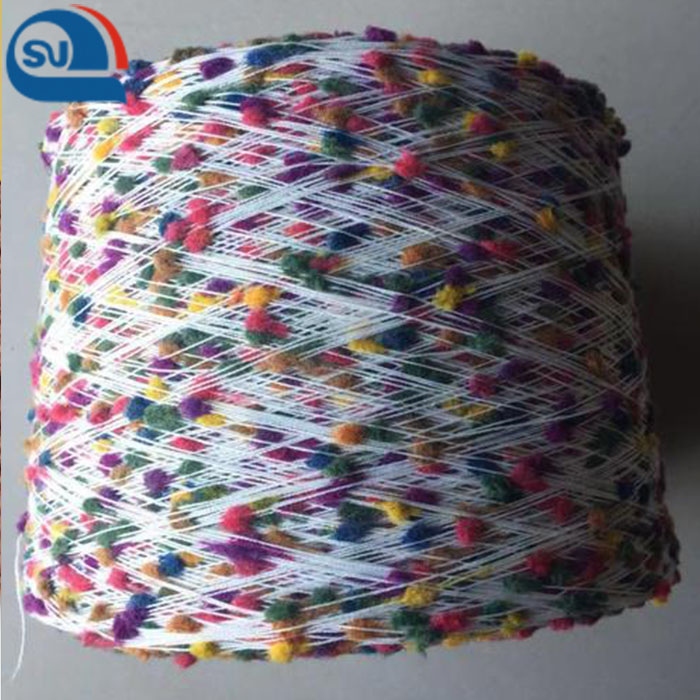 Fancy yarn refers to the colorful yarn with special structure and appearance obtained by special processing of fiber or yarn with special fiber raw materials, special equipment and special processes in the spinning process. It is a kind of yarn with decorative function different from ordinary yarn in yarn products.
The Dragon robe worn by the ancient emperor of China was inlaid with gold and silver wrapped in thread (gold wire wrapped in cotton thread). Since the 1930s, it has been able to produce knot lines on hand-operated parallel drawing machines,; In the 1950s, there were color spinning and fancy yarn; In the 1970s and 1980s, Zhejiang, Jiangsu and Xuzhou Xinchang textile fancy yarn developed rapidly; Since the 1990s, fancy yarn has not only developed rapidly, but also the varieties are increasing. The national cotton textile science and technology information station and the information professional committee of China Textile Engineering Society have organized ten national technical seminars on the development of fancy yarn equipment, spinning process principles, variety development and the development and utilization of fancy yarn in various fields such as weaving, knitting and knitting, which have played a positive role in promoting China's further improvement of the technical content and economic benefits of fancy yarn.
In recent years, fancy yarns and fabrics are dazzling at international yarn and fabric exhibitions. Fancy yarn has a special structure and can use almost all natural fibers and chemical fibers. All kinds of fiber raw materials can be used alone or in combination, which can give full play to their inherent individuality. According to the fabric and its uses, various fiber raw materials can be selected for ingenious matching, and different spinning principles and processing methods can be used to change the internal structure and appearance of the yarn to produce a wide variety of fancy yarns with different postures. The rapid development of fancy yarn has changed the variety structure of the whole yarn, thus forming a unique yarn branch. Fancy yarn woven fabrics can be used for overcoats, suits, Outerwear, shirts and skirts. Fancy yarn knitwear can be widely used for knitted garments such as woolen sweaters. Fancy yarn has been widely used for making hats, scarves, ties, carpets, sand releases, curtain fabrics, bedding and high-grade wall materials. Fancy yarn and its fabric have not only become a new star in the international and domestic textile market, and are loved by consumers, but also a fashionable trend in the new century.
At present, the production center of fancy yarn is in Western Europe, and the leading countries are Britain, Germany, Italy, France and Spain. In French women's wear, fancy yarn and fabric account for 40%. Italy's fancy yarn fabrics account for more than 19%. In recent years, fancy yarns in the United States and Japan have also made great progress. The output of fancy yarns in the United States accounts for 40% of the total yarn output.
The 21st century is an era of fancy yarn and technology development. China's entry into the WTO has brought opportunities and challenges to the development of the fancy yarn industry. We should make good use of this opportunity, closely follow the international textile development trend, and summarize China's experience in the use of equipment, process research and product development of fancy yarn over the years, so that we can use high and new technology to study new processes, new equipment and new products in the future, Improve the processing level of fancy yarns, expand the application range, produce fancy yarns and fabrics that consumers love and meet the needs of domestic and foreign markets, and promote the development of the textile industry. www.seagor.cn
www.seagor. Com systematically introduces the categories and main products of fancy yarn, the technological principle, equipment type, working principle and structural characteristics of spinning fancy yarn, and introduces the fabrics with novel structure, gorgeous colors and popular with people at home and abroad that are used in weaving, knitting, knitting and other branches of fancy yarn- Development and application of fancy yarn